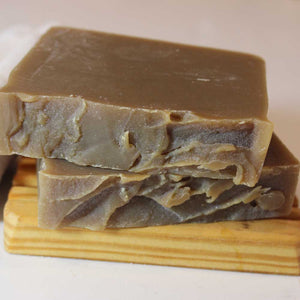 Soap Bar - PINE TAR + CEDARWOOD
Pine tar has been a common ingredient in soap for hundreds of years.  It's perceived as an effective treatment for bacterial and fungal infections such as athlete's foot and jock itch. The addition of our home-brewed herbal African Rooibos tea enhances the deep, natural color and cleanses your skin with its antioxidant and zinc compounds.

Contains cedarwood and lavender essential oils.
Olive Oil – has antioxidant, anti-inflammatory and moisturizing properties
Pine tar relieves itching and inflammation associated with a range of skin conditions
Coconut Oil – used in the treatment of various skin conditions, including dermatitis, eczema and psoriasis
Castor Oil – used as a benefit for skin ailments; an excellent cleanser and moisturizer
Sea salt – included as a scrub for its many skin benefits

All Ingredients
Olive oil, coconut oil, Rooibos herbal tea, castor oil, pine tar extract, sea salt, cedarwood and lavender essential oils
choosing a selection results in a full page refresh