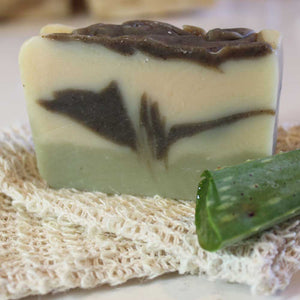 Soap Bar - EXOTIC LIME + ALOE
A truly beautiful soap bar with a sensuous smell and soothing, antibacterial properties. Really an exotic experience!
Aloe Vera juice hydrates, nourishes and repairs - soothes inflammation - great for acne and dermatitis
French green clay has a high content of decomposed plant matter, having gone through the cycles of nature over centuries and is especially effective in drawing out impurities such as stale sebum, dirt, pollution and bacteria trapped in pores. Also soothes sensitive skin whilst gently exfoliating and cleansing. It is rich in calcium, magnesium, silica, phosphorus all of which deeply nourish and hydrate your skin!
Nettle leaf has therapeutic qualities, is anti-inflammatory, an astringent and fights allergies.
Essential oil blend is antiseptic, antibiotic, analgesic. Lime is an astringent and antioxidant, effective against rashes and viral infections.
Ingredients:
Olive Oil, Coconut Oil, Aloe Vera Juice, Cocoa Butter, Nettle Leaf Powder, French Green Clay Essential Oils of Lime, Patchouli, Litsea, West Indies Bay, Black Pepper
choosing a selection results in a full page refresh