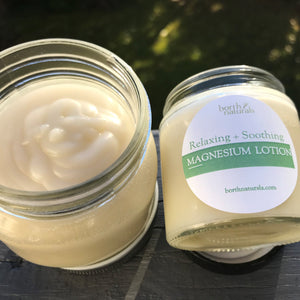 MAGNESIUM LOTION - Relaxing & Soothing
MAGNESIUM is a vital human nutrient that most of us are devoid of.
Lack of magnesium may result in trouble sleeping, migraines, struggling with anxiety, restless leg syndrome - and many other Magnesium Factor issues. 
Our remedy is our All Natural, gentle and safe MAGNESIUM LOTION, which provides the ideal blend of all the nutrients, including relaxing lavender, our bodies need on a daily basis.
Benefits: 
Has a calming effect and may induce deep and uninterrupted sleep
May help combat restless leg syndrome and leg cramps
Is known to fight fibromyalgia – chronic pain, fatigue and sleep disturbance
May ease anxiety and depression by suppressing the release of stress hormones 
Rub on neck and back to help reduce symptoms of asthma

Helps relieve migraines
Ingredients:
Shea Butter, Coconut Oil, Magnesium Chloride, Filtered Water, Emulsifier, Lavender EO, Optiphen
choosing a selection results in a full page refresh